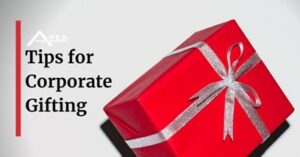 Unwrapping Success with Corporate Gifts
For many companies, the end of the year is marked with a gifting campaign. Whether you use corporate gifts to attract new clients, build customer loyalty, or celebrate a milestone, gifts can help to build a relationship with your target audience.
Branded gifts can increase customer engagement, improve employee sentiment, and build a positive brand perception, but only if the gift you are sharing is well-received. Corporate gifts don't need to be extravagant to leave a lasting impression. In fact, a recent study found that sentiment and quality were the most important factors in determining the value of a corporate gift. Regardless of the price point, a corporate gift is an extension of your brand so choose wisely.
As you plan your holiday or end of year gift campaign, use these tips to guide your selection.
Know Your Audience
Make your list and check it twice. Are you gifting employees, investors, customers? Each audience will have unique interests, passions, and expectations. In turn, your presentation and experience will likely be different for each group. Because sentiment is so strongly tied to the gifting experience, understanding what motivates your audience is key to the success of your campaign. If you're gifting both customers and employees, you may need to select different gifts for each group to ensure the appropriate emotion is conveyed.
Establish Goals
You're sending out gifts. Now what? Aside from making your brand look good, what do you hope to achieve with this investment? Do you want to attract new customers or talent? Is the goal to incentivize recipients to take action? Or, is this gift a part of a larger communications campaign or company announcement? Treating corporate gifts like a marketing campaign allows you to clearly understand return on investment and evaluate areas for improvement year-over-year.
Shop for Corporate Gifts
We don't know who needs to hear this, but your branded stress ball from last year's trade show is not a gift. Shopping for corporate gifts can be daunting. At Apex, we curate a holiday gift guide each year featuring the most popular, on-trend corporate gift ideas that will make your brand stand out. Use this guide as your roadmap to delight your customers and employees this gifting season. You'll find name brand apparel, premium giftsets, the hottest tech items, and delicious foodie finds all ready to be branded with your logo or message.
Promote Your Brand
Once you find an item that resonates with your audience, consider what the item is communicating about your brand and values. Sustainably sourced and packaged items can be used to highlight your dedication to the environment. Trend-focused gifts can be used to showcase your company style and aesthetic appeal.
Streamline Logistics
Consider us your helpful holiday elves when it comes to logistics. Gifting can become time-consuming and expensive when the pressure of packing and shipping falls on your internal teams – especially if you're shipping to multiple locations around the country. Our in-house team of specialists can help you streamline the process to meet your deadlines and maintain your budget. We can even package a custom kit, incorporate a notecard or video message, or arrange to have your gifts arrive at a specified location such as an employee retreat or holiday party.
Ready to Start Your Corporate Gift Campaign?
Shopping for corporate gifts can be overwhelming and costs can easily creep beyond budget when working from self-serve platforms. Partnering with a full-service promotional marketing agency not only ensures you get the best products, but can also save you time and money.
Ready to get started? Contact us to have a conversation. We're here to help!