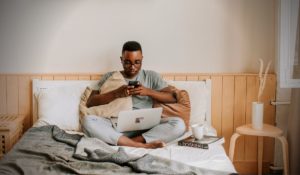 At many companies, cubicle farms are a distant memory. For millions of Americans, COVID-19 has meant adapting to a work from home schedule to help slow the spread of the virus. Although perspectives have varied significantly on how remote working is working out, many surveys show that most businesses will continue some form of a remote or flex working policy long-term.
An organized and comfortable workstation is key to maintaining productivity and reducing potential health risks while working from home. A makeshift workspace can be the source of blame for a bevy of body pains. In fact, 41% of Americans have had new or increased back, neck, or shoulder pain since they began working from home according to this article from Inc Magazine.
We've rounded up our top office supplies, wellness items, and tech products designed to better equip your team for success. Our high-quality promotional products offer exceptional printing capabilities and are available in a range of quantity minimums perfect for small teams or large corporations.
5 Promotional Products for Remote Workers
Skullcandy Indy True Wireless Bluetooth Earbuds
Attempting to cradle a cell phone on your shoulder or even holding a phone up with your hand for an extended period of time can cause major strain to you neck, shoulder, and arm. Encourage team members to switch to wireless earbuds for a hands-free option. This version by Skullcandy offers 16-hours of playtime (so you know they'll withstand those endless Zoom meetings). And the included charging case offers prime branding space.
https://shop.apexadv.com/product/skullcandy-indy-true-wireless-bluetooth-earbuds-69880/
5-Port USB Charging Tower
Keeping everything at the ready is essential for productivity. This charging tower features five USB outlets to keep your devices in one place. Customization options make this an ideal product for employees or as a part of your marketing collateral.
https://shop.apexadv.com/product/5-port-usb-charging-tower-67912/
Modena Coffee Press and Glass Set
This may seem extravagant at first but trust us, your team is missing those office perks. This coffee press set is compact enough to sit deskside and offers café-quality coffee at your fingertips.
https://shop.apexadv.com/product/modena-coffee-press-and-glass-set-68660/
Tangle Matrix Stress Reliever
Studies have shown that fidgeting increases focus and productivity. It can also provide a tactical outlet for stress and anxiety. Tangle elevates the typical stress ball with their unique design that is available in six bold colors with a custom printing option.
https://shop.apexadv.com/product/tangler-matrix-stress-reliever-67741/
Unisex Blue Light Blocking Glasses
Screen time really can wreak havoc on our circadian rhythms and cause serious eye strain. These blue light blocking glasses filter out blue light to give eyes a much-needed break. Frames are available in black or clear with custom silk screen printing.
https://shop.apexadv.com/product/unisex-blue-light-blocking-glasses-69355/
Oasis Handheld Massage Roller Ball
Sitting at a desk all day can lead to sore muscles and joints – especially if you're hunched over a laptop or working from a non-supportive seat – living room sofa, we're looking at you. The cup design of this handheld massage roller allows it to perch securely on a desk or bookcase. Use it as a reminder to take frequent mini breaks to stretch and sooth sore muscles.
https://shop.apexadv.com/product/oasis-handheld-massage-roller-ball-69877/
Promotional Products That Fit Your Brand
We've been curating our collection of quality branded products for 30 years. With over one million items available, you'll find a unique assortment of products, recognizable brands, and unmatched printing quality. When you need employee incentives, swag for a marketing kit, or a corporate gift, our team of in-house experts can assist you in every step. Browse our e-store for a selection of products that fit your brand and your budget and contact us to learn more about what we do and how we can take your brand to the next level.