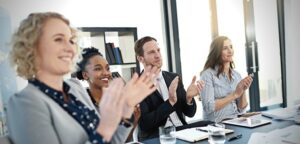 8 Ideas for Employee Recognition
Nearly half of the US workforce will leave their current employer this year. With an influx of available job openings, some are leaving current positions for new opportunities. Others are stepping back from the workforce altogether. In both situations, a common factor is often sited: lack of employee recognition and an unsupportive company culture.
Employee recognition boils down to gratitude. Are you thankful for your team? Do you appreciate the work they do and the value they bring? Do you let them know this clearly and often?
For many companies, employee recognition is overlooked until annual reviews or end-of-year celebrations are held. While these are great opportunities to recognize your team, establishing a positive company culture requires continual appreciation.
Many HR experts believe employee recognition is more important now than ever and the concept has been incorporated into a broader ideal, coined employee experience or EX. EX encompasses the complete employee lifecycle – from interview to exit. Focus within employee experience often includes:
The employee's relationships with leadership and peers
Perception of their workspace – both in-person and remote
Their connection to the work itself and their level of satisfaction
Their wellbeing and ability to establish work-life balance
Establishing a positive employee experience isn't just a nice gesture – it's essential. And incorporating a thoughtful employee recognition program is a vital component.
Lack of employee recognition can lead to declines in mental health, productivity, and participation all of which lead to increased turnover rates. On the opposite end of the spectrum, a healthy culture of recognition not only increases employee retention, it can also increase performance and profitability.
If you're ready to shift your employee experience to one that is rooted in appreciation and growth, check out these ideas to help develop your program!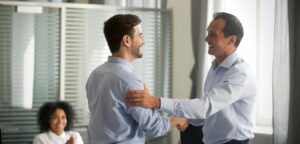 8 Ideas for Employee Recognition
Rewards & Incentives
Establishing a thoughtful employee incentive program often goes hand-in-hand with creating a culture of recognition. Incentives serve as benchmarks for teams to strive toward and can be used to reward various milestones such as years of service, attendance, sales, or safety goals.
Public Praise
Publicly thanking your team and sharing their accomplishments can have a positive effect on employee sentiment and motivation. Public displays can range from inclusion within a team newsletter to recognition during a team meeting.
PTO
Who doesn't appreciate a day off every now and then? Whether it is a flexible day off or an option for a late start or early departure, PTO is often a welcome reward that can positively impact the employee's wellbeing.
Training
Understanding your team's personal goals and providing a path for growth can be a major factor in employee retention. Opportunities for training such as job shadowing, paid seminars, or attending a trade show or industry event communicates that you believe in their capabilities and that you have a stake in their growth.
Time
Have you ever felt as though a superior doesn't know who you are? It's a common complaint from teams with employees who feel disposable. Establishing opportunities for one-on-one time creates an opportunity for employees to feel seen and for managers to understand their teams on an individual level.
Workspace Upgrades
Whether your team works in-person, remotely, or uses a hybrid model, workspace plays an important role in both sentiment and productivity. Advancing to a larger office, receiving a new laptop, or an upgraded chair or desk can be used to elevate the workspace.
Awards
Employee recognition awards are a concrete way to share praise and gratitude. And they provide honorees with an on-going reminder of their achievement and earned clout within the company. This recognition often provides motivation to achieve the award year after year.
Celebrations
Team building experiences, company picnics, and holiday parties provide an opportunity for employees to get to know each other on a personal level. Celebrations boost morale, strengthen bonds, and create a feeling of teamness.
How to Start an Employee Recognition Program
Employee recognition is vital for successful recruitment and retention. Today's employees care about more than compensation alone. They want to feel valued, have a clear path for growth, and feel supported in creating work-life balance.
If you're ready to start an employee recognition program, our team of strategists are here to help! We'll work with you to create an online company e-store to manage and distribute incentives, customize meaningful awards, and provide logistical support to make your holiday party or annual meeting a success! Contact us to start a conversation.