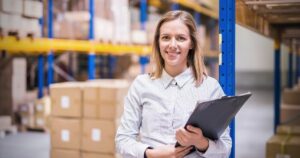 Does your company have a plan for warehousing and distributing marketing and promotional items? Employee incentives, on-boarding kits, and branded apparel can add value to your HR, sales, and marketing efforts. But a mismanaged process can degrade your bottom line.
Many companies rely on an "as needed" management strategy. When a new employee joins the team, someone must hand-pick and assemble promotional items and then ship the kit to various locations. Or when trade show season rolls around, it becomes an all-hands-on-deck scramble to meet shipping deadlines and navigate freight costs. These all-too-common scenarios waste time and money.
If kitting, shipping, or managing inventories of your marketing and promotional items is causing a strain on your resources, a third-party partner might be a smart solution. Read more to learn about the benefits of outsourced warehousing and logistics.
Benefits of Third-Party Warehousing and Fulfillment
Warehousing and Storage
When it comes to warehouse storage, every square foot represents a dollar sign. On-site storage means you may be sacrificing space that could be used for sellable goods or as workspace. Opting for a third-party partner frees up space but still allows you to control the inventory.
When working with a warehousing partner, choose a company that can receive your promotional items and branded materials directly to their facility. This saves time in the supply chain and removes the hassle of coordinating logistics.
Kitting, Picking, and Packing
Studies show that most people prefer a personalized marketing experience. Custom employee on-boarding kits and customer appreciation mailers can reap huge rewards. But assembling those kits can be time consuming – especially if your team already has a full workload.
A third-party partner can pick and pack these kits to your specifications. At Apex, we'll even help you source unique promotional items to showcase your brand. Whether you need gift bags created for an annual event, or branded kits distributed throughout the year, alleviating your team from this time-consuming task can have a positive impact on your bottom line.
Shipping and Logistics
Shipping and logistics can often be an area where many brands realize the benefits of a third-party partner. At Apex, we use our experience and relationships with shipping companies to negotiate freight costs and schedules to meet your budget and handling requirements.
Whether you need materials shipped directly to a trade show venue or custom kits mailed to multiple locations, we will find a solution that is right for you.
Company e-Store
A company e-store is a specialized website that allows employees or affiliates to redeem gifts, incentives, branded merchandise, or marketing materials. Access can be limited based on your parameters using login credentials, a unique link, or a purchasing code.
A company e-store can manage off-site inventories, facilitate employee and customer engagement, and streamline logistics. E-stores can be used as a platform to order team uniforms, award employee or safety incentive, or promote swag to customers.
Branding and Creativity
At Apex, our team steps outside traditional logistics management to ensure your campaigns are executed to perfection. We've traveled to events to stage in-room gift bags at hotels, timed award distributions with corporate meetings and new product launches, and led strategies to amplify virtual events.
Plus, our team of in-house experts will work with you to incorporate quality branding throughout products and shipping packages to create an immersive brand experience.
Getting Started
At Apex Advertising, we've been improving our clients' ROI for 30 years. We'll work with you to create a warehousing and fulfillment solution that can support nearly any project – regardless of budget or scope. Our secure warehouse is located on-site at our Lancaster, PA headquarters. Maintaining an on-site location means our team always has direct access to your products, and you'll have the peace of mind knowing that your inventory is always protected.
If you're ready to learn how a third-part warehousing and fulfillment partner can help your business, contact us to start a conversation.