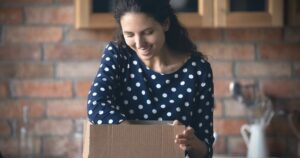 We've all been there. On the trade show floor with an armful of swag. But trade shows aren't the only opportunity to use promotional products to build marketing results. Studies show that 83% of people really like receiving promotional products. And 88% of those people say they remember the company name imprinted on the items they receive.   
As experiential marketing continues to rise as the most influential format, your customers and clients are looking for marketing that brings deeper meaning. Promotional products provide a tangible opportunity to build connections and share your brand personality.
But you don't have to wait for the next trade show to get creative. Check out these tips for using promotional products beyond the trade show floor.
Custom Kits
Curating a custom kit creates a one-of-a kind experience for your target audience. Start with a theme and build your kit from there. And remember, not every item in the kit needs to be branded to be effective. Try a movie night kit and pair a branded popcorn bowl with gourmet popcorn and seasonings. Or build a kit around your current promotional product inventory. Combine a branded mug, water bottle, and notebook with an unexpected feature like a gift card or invitation to join an in-person experience.
Build brand recognition throughout the kit to create a complete experience. Include custom branding on all packaging and arrange items in a giftset format. Add a personal note to the kit to further the connection.
Employee Incentives
Value and recognition rank high among many employee satisfaction reports. Building an employee incentive program can be a fun and powerful way to support your team and increase performance. Promotional products are often a welcome incentive for many employees – but only if they are high quality and useful. Look for recognizable name brands and opportunities to brand top retail. If you are considering apparel, be sure to offer a variety of sizes and fits.
Using a company e-store can streamline your employee incentive program. The online platform provides an easy selection tool for employees and allows management to issue parameters to meet the program. Off-site warehousing and fulfillment simplifies inventory management. Products can be shipped directly to an employee's home or office locations around the country.
Corporate Gifts
Gifting provides an opportunity to thank your most valued clients and strengthen budding relationships. The key is to make it feel like a gift. From the external package to the unboxing experience, consider what your corporate gift is communicating to the recipient. Is your gift something the recipient will value and want to use? How is it unique to your company culture and values?
A video message can further enhance the corporate gift experience. Video builds a unique connection that is second only to in-person correspondence. In fact, most people would rather view a video than read an email or printed material. And most people are more likely to remember the content of a video as opposed to text-based content that must be read. A custom video mailer or brochure combines your company branding with a personal video message. Use a video to share your sentiment, highlight company milestones, or make an announcement such as a company acquisition or invitation to an event.
Making it Happen
We know what you're thinking. You'd love to use these strategies in your marketing but the thought of pulling it all together sounds overwhelming. We're here to help make it happen! At Apex, our in-house strategists can help you build a solution that works for you.
From branded gift bags with a variety of promotional products enclosed to curated corporate gift baskets, or an employee onboarding kit, our team is up for the task. We'll identify opportunities to streamline purchasing, fulfillment, and logistics. And establish guidelines to ensure all branded materials portray your company in a consistent and positive way.
Ready to get started? Contact us to start a conversation about your marketing.