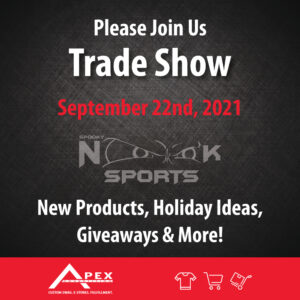 We are thrilled to invite you to be our guest at the Philadelphia Area Promotional Products Association Trade Show on September 22!
So much of selecting promotional products is about look and feel. How will that custom pen feel in your clients' hands? Does that branded backpack pass the durability test? If you are already purchasing promotional products through Apex, you can always rest assured that we only source the highest quality materials from trusted brands. But there is still something so valuable – and fun – about seeing these items in person!
Join us for this in-person event to plan for your holiday and year-end celebrations, employee awards, and corporate gifts. You'll get an introduction to new products and our team will walk you through the hottest trends in promotional marketing.
Enjoy lunch, happy hour, and a gift bag as our thank you!
Promotional Products Trade Show
September 22
10am – 1pm
Spooky Nook Sports Complex
75 Champ Blvd | Manheim, PA
Register online here.