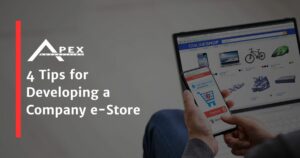 4 Things to Consider When Building a Company e-Store
An online company e-store provides a single point of access for ordering and shipping employee incentives, new hire and on-boarding kits, company apparel and uniforms, promotional products, and other items that are specifically created to represent your brand. Company e-stores are private sites with access limited to employees, dealers, and affiliates. They can be customized to support a specific event or milestone or used year-round.
On the back end, a company e-store provides sales, marketing, and HR teams with informative analytics and insights and the ability to limit and track access. They help to eliminate the need to stock large quantities of branded products and can save countless hours typically required to pack and ship merchandise.
When building a company e-store, it is important to work with a partner who can develop a site based on your brand guidelines and the unique experience you would like to deliver to your employees and partners. As you plan your project, consider these four factors before developing your company e-store:
Branding
Your company e-store is an extension of your brand, and it is important that a consistent brand experience is delivered at every touchpoint. This should include the site name, styling, messaging, and overall look and feel of the site. Additionally, your company e-store should have the ability to control the standards of your branded merchandise by specifying which logo designs can be used, logo placement, and even product colors and manufacturers. This not only helps to preserve your brand identity, it also ensures that employees and team leaders only source approved items from preferred vendors.
Accessibility
Your company e-store is designed to limit access to the groups you specify. This may be employees, distributors, or partners. In some instances, access may be limited for a specific event or timeframe, or access can be granted for use year-round. Parameters can be set using login credentials, a unique URL, a purchasing code, or through an earned points system. At Apex, our in-house team of specialists develop each company e-store to meet your individual needs. This allows us to completely customize how your e-store will look and function.
Warehousing and Fulfillment
An online company e-store eliminates the need to stock products on-site at your location. By incorporating a third-party warehousing and fulfillment partner, you are able to free up valuable space and alleviate the burden of packing and shipping items yourself. When using a company e-store platform, you can access real-time insights into product inventories and shipping statuses to enable data-informed decision-making.
Data and Analytics
When selecting an e-store developer be sure the platform includes up-to-date reporting on the metrics that matter to your business. Track inventory levels, understand which items are in demand and which move more slowly. Determine which products to reorder, set triggers to notify you when inventory levels are low, and pinpoint product trends. This data will help you understand the needs of your end-users and inform future buying decisions.
As an industry leader in developing custom company e-stores, our in-house team is dedicated to delivering solutions that meet the needs of your brand and budget. We never rely on a "one size fits all" model. Instead, our custom approach ensures you get the results you need. Contact us to start a conversation about your brand and how a company e-store can help save your company time and money.