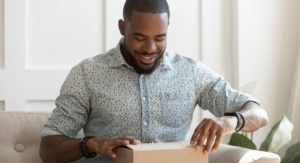 In the wake of 2020, Zoom meetings, virtual hangouts, and Slack conversations have become a part of today's work environment. With many businesses operating virtually, how do you build connections with new hires? Bridge the gap of onboarding remote employees with a thoughtfully designed marketing kit.
An effective onboarding process sets the tone of your company's brand, builds excitement, and supports long-term employee retention. In today's work-from-home culture, many organizations are struggling to create excitement and a spirit of inclusion. Read more to learn how a marketing kit can be a powerful asset in your HR toolkit.
Roll Out Resources Ahead of Time
No one wants to fumble on their first day at a new job. Set your employees up for success by providing equipment, logins, schedules, and expectations ahead of time. With no IT or tech teams on-site, your new hire will be responsible for setting up their workspace solo. For more complex information, consider delivering data through a custom video box. This easy-to-navigate system can include company resources, a personal welcome message, and a step-by-step guide to onboarding. The tangible aspect of receiving a marketing kit is inviting and ensures important information is not overlooked.

Use a Marketing Kit to Establish Your Mission, Vision, and Culture
According to a SHRM report, one in five employees have left a job because of poor company culture. Culture is directly related to employee retention, productivity, and brand perception. But, many businesses struggle to convey these benefits in a virtual environment.
We partnered with a national transportation company to optimize their new hire process. Together, we developed marketing kits customized by department. The customized kits ensured employees received information and useful items that spoke to them directly. Additionally, every marketing kit included a personal note welcoming the employee to the team. These marketing kits have been established as part of their corporate policy, creating a consistent experience across their many locations throughout the country.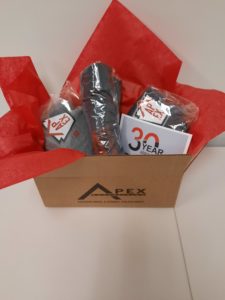 Build Relationships with a Custom Marketing Kit
For most employees, social interaction plays an important role in how connected and satisfied they feel in the workplace. A remote work environment can often limit opportunities to engage with peers. Planned virtual luncheons, online team building activities, and digital team meetings can foster meaningful relationships. Adding a themed marketing kit can build excitement and increase employee engagement. We can work with you to curate hands-on activities, bespoke snack packs, or cocktail kits to elevate your on-line happy hour, employee appreciation event, or team lunch and learn.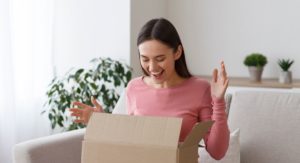 Create Ongoing Employee Excitement
Ongoing support and the feeling of "team-ness" can have a tremendous effect on employee productivity and satisfaction. An incentive program can be a valuable way to support both in-person and remote workers. From cyclical awards programs, sales incentives, and safety recognition, we can help you develop a strategy that aligns with your business goals.
Consider including company-wide recognition to truly celebrate your employees' accomplishments and encourage goal-setting. This may include a companywide email or e-newsletter or hosting a virtual event. Some examples of high-value incentive programs include:
Peer recognition that allows employees to nominate other team members for specific accomplishments.
Goal achievements, such as meeting sales benchmarks or project milestones.
Values-based awards that showcase characteristics in action.
Learn How to Create a Marketing Kit
A corporate marketing kit is invaluable when onboarding remote workers. They establish immediate impact, communicate company culture, and effectively inform complex information in a personal and engaging fashion.
The thought of establishing a marketing kit program may feel overwhelming but we are here to help! Our fulfillment and warehousing solutions are designed to save you time and money. With a wide variety of kitting, consolidation, and fulfillment services, we can stock and ship your products directly to your new hires wherever they are located. Our in-house strategists and designers will work with you to develop a fully customized marketing kit with unique elements to communicate your brand and culture. And when you need promotional items, we have one of the highest quality inventories available. Let's get 2021 rolling! Contact us to start a conversation about your new hire onboarding process and how we can help make it a success!